March 25, 2023
Resilient Leadership
Every human being has the inbuilt psychological need to reach their full potential during their lifetime. Success is a barometer to realize whether a person has achieved their full potential. Success incites strong emotions of happiness and joy among people. It makes people feel powerful and accomplished. However, we all know that success seldom comes easy. Every great success is built upon tremendous failure, pain, hardships, and sacrifices. It is during the phase of suffering that most people give up. Suffering has indeed killed more dreams than failure itself. Therefore, leading oneself to success requires much resilience. And when the scope of the goal is beyond oneself, where it is for a larger community, it requires resilience and leadership both. Resilient leadership is built on the foundation of a leader's ability to persevere in tough times and strong people management.
Resilient leadership is a potent combination that increases the possibility of achieving success by many folds. People with resilient leadership find their way to gather the much-needed resources and motivation despite obstacles. They grow and mature with every hardship. They gain the right attitude, knowledge, skills, capital, or people over time. Resilient leadership has the magnetic power to pull all kinds of resources together to reach the finish line. Let us recall the inspirational life story of Nelson Mandela and his resilient leadership.
Mandela went on to lead the African National Congress struggle against the racially oppressive apartheid regime of South Africa. In 1963, he went to prison for 27 years for his efforts to bring peace and justice to his countrymen. During this time, he was diagnosed with tuberculosis and received the lowest treatment from prison workers as a Black political prisoner. However, while imprisoned, Mandela earned a Bachelor of Law degree. He gained tremendous public support and worldwide popularity despite being in prison. In 1993, Mandela was awarded the Nobel Peace Prize for their work toward demolishing apartheid in South Africa. In 1994, Mandela was elected president in South Africa's first democratic elections. Nelson Mandela was an inspiration to millions, and through his speeches, he influenced the youth for the better. Mandela once quoted, "Do not judge me by my successes, judge me by how many times I fell down and got back up again."
How to be a resilient leader?
⦁ Learn – Learn more to develop your wisdom to improve your reasoning. Better reasoning will make your arguments stronger to gain support and bring change. In addition, it will help in generating newer ideas and alternatives as solutions during hardships. A learning person may anticipate possible difficulties before the event occurs and prepare in advance.
⦁ Listen – Listen to the stakeholders, including sponsors, customers, team members, community, and beneficiaries, to understand the scope well. Understanding the scope well may reduce errors and will keep one on track. This will also help gain stakeholders' support for better advice and other resources to meet the challenges.
⦁ Recall – Recall the past incidences where you handled the hardships well. Or think about someone who did a brilliant job managing the hardships and came out victorious. Recall the stories of Nelson Mandela, Gandhi, and Martin Luther King.
⦁ Ask questions – Ask questions to yourself and others when there is a hardship. Why is there hardship? Can you do something about it? Is it worth getting stressed about something you cannot control? What is under your control? What can you do best for the things under your control? How will your reaction impact your team members? Sometimes asking questions yourself gives the best answers. Discuss with your mentor and team members to clarify and identify the bottlenecks. You may carve out a better solution this way.
⦁ Relax to recover – Take a break when you hit a roadblock. Let the disappointment settle down. Gain energy during the break and start all over again with enthusiasm.
⦁ Look at the big picture – Go back to basics and look at the big picture. Why did you start this journey, and what was the ultimate objective? Hardships may push you hard to quit. Quitting the mid-way sounds easy, but it may be a bad decision in the long term for oneself and others. If quitting is bad in the long term, then remind yourself to persevere and continue.
At last, resilient leadership may prove to be extremely powerful in achieving the dreams and goals of oneself and the larger community. Every hardship provides an opportunity to develop resilient leadership. One must take this as an opportunity. People love resilient leaders as they are truly inspirational and give better outcomes.
About the author: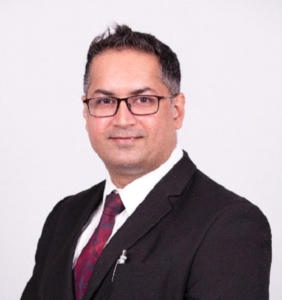 Gaurav Warman is a Talent Development Practitioner with 17 years of experience in large organizations across Asia, the Middle East, and the APAC region. In his current position as Head of Learning and Development at Lulu Financial Holdings in Abu Dhabi (UAE), he successfully manages talent development requirements for a large and diverse workforce across 11 countries. He has delivered over 1200 workshops, trained more than 45000 professionals, and developed over 300 training programs. He is passionate about behavioral psychology, leadership, and personal effectiveness. In addition, he loves reading, listening to music, and cycling long-distance rides. He specializes in Executive Coaching, Talent Development, Leadership Development, Learning & Development, Quality Management, Project Management, and Keynote Speaking.